Elementi di sistemi satellitari
Il Processo di 'inizio-fine' di un satellite GEO comprende le seguenti fasi:
1. "Lancio dalla stazione di terra".
2. "Separazione degli stadi" (in momenti successivi).
3. "Initiate spin down sun acquisition".
4. "Out board solar array partial deployment".
5. "First apogee passage".
6. "Transfer Orbit".
7. "Slow spin up and orientation".
8. "Intermediate Orbit 1", al giro successivo "Intermediate Orbit 2".
9. "Ground station acquisition".
10. "Earth acquisition, start MIMU calibration".
11. "Orbit determination".
12. "Start 1st AM firing" (primo sparo), successivamente, 2st, 3st .
13. "End of AM firing".
14. "Drift Orbit".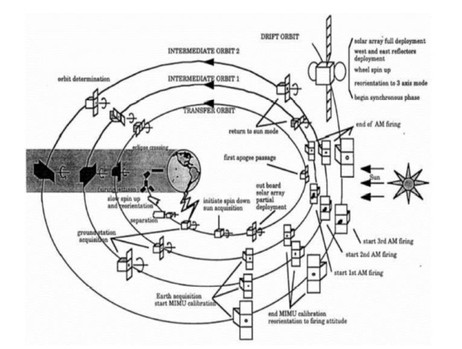 Torna indietro